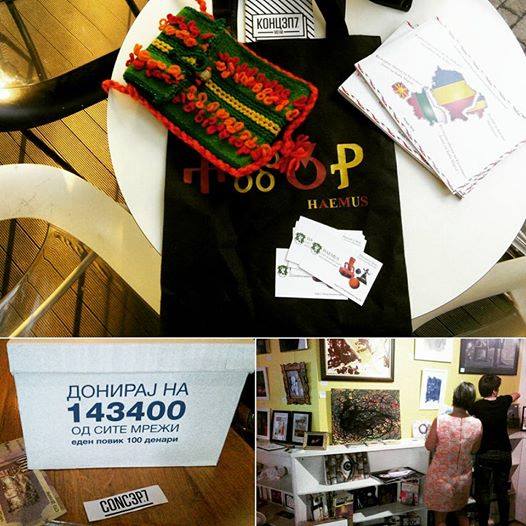 Macedonia declared state of emergency. Skopje, the city where the team of HAMUS live and work was flooded after terrible weather. On 6 August 2016 starting around 6 pm, a storm with strong winds and flooding hit Skopje and the western parts of the country, leaving at least 23 people dead and dozens injured or missing. More that 200000 citizens on the territory of the capital of the Republic of Macedonia stayed without homes. In order to help to flooded people HAEMUS joined the art humanitarian action organized as citizen initiative by few Macedonian artists such as Vladimir Lukas and Maja Chankulovska.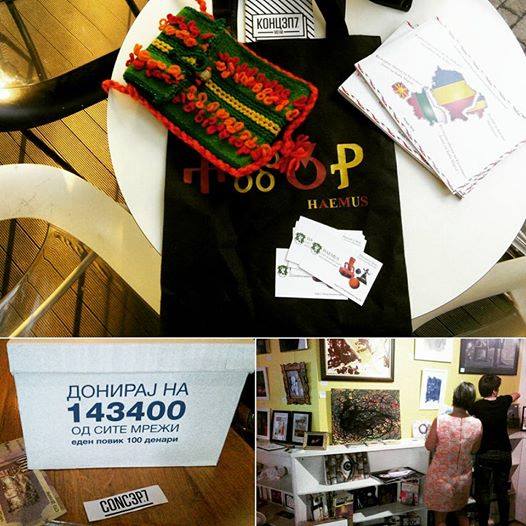 A selling humanitarian exhibit by more than 100 Macedonian artists was held in cafe "Concept 37" from 09-15.08.2016. We do have a lot of publications produced by HAEMUS, but we don't have many art pieces or our souvenirs. Still, HAEMUS gave several eco bags for sale at Concept 37 within this humanitarian exhibition. In generally, we made these bags with industrial designs of Macedonian cultural heritage as a test, only in one or two sample and originally they were not planned for sale. Many thanks to fellow artists which gave us a privilege to join the action and contribute to flood victims. The collected funds of few thousands euro were attended  to help the victims of the floods that hit Skopje and its surrounding over the past weekend.
[youtube]X0CdIn8AMk4[/youtube]
Also, in an attempt to promote this art humanitarian exhibition, Vasilka Dimitrovska, director of HAEMUS was a guest at the morning show "I love Macedonia" at the national Sitel Tv with Elena Stojanovska as a host. Originally, the show was attended to promote the cultural monuments in the Republic of Macedonia, but a part of the conversation was dedicated to the past events which are considered as a biggest natural disaster after the flooding in 1962 and the earthquake in 1963 which completely physically destroyed 80% of modern Skopje in that time.
Humanitarian people around the world may help and donate:
NAME OF THE ORGANIZATION: MACEDONIAN RED CROSS
BANK NAME: KOMERCIJALNA BANKA AD SKOPJE
BANK ADDRESS: UL. ORCE NIKOLOV NO.3, 1000 SKOPJE, MACEDONIA
BANK ACCOUNT: 300000000000133 25730522-11
SWIFT CODE: KOBSMK2X
IBAN CODE: MK07300701000001228