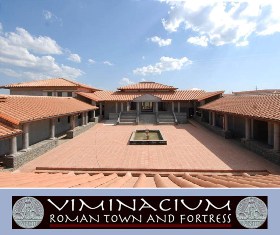 Archaeological Institute and Archaeological park Viminacium
are pleased to announce call for presentations for the Second International Symposium at Viminacim, which will be held at Viminacium from September 29th to October 3rd, 2014.
The symposium is a part of the European OpenArch Project dedicated to promotion, organization and management of open air museums and archaeological parks.
The symposium consists of two main parts: the first is for partners of the OpenArch Project while the second is for participants from Serbia and from the neighbouring countries, who are involved in the topic notified in sessions.
We shall be very pleased to hear your presentations. We kindly ask you to send your applications until 30th of June and your abstracts (up to 300 words) until 31st of July. Please send them to the following e-mail address: viminacium.symposium@yahoo.com
The official language of the symposium is English.
Presentations should not be longer than 15 minutes.
Board and lodging shall be provided for all participants.
Should the number of applied presentations be too big, the organizers hold the right to make a selection.
For all participants who shall attend the whole symposium (from Monday, September 29th until Friday October 3rd, 2014), bus transport is provided to and from Belgrade. To all of the other participants, car transport to and from Požarevac is provided. Transport costs to Serbia are individual, and organization of the symposium does not provide or refund them.
All of the presentations shall be published within the congress acta.
Contact: viminacium.symposium@yahoo.com
Milica Tapavički Ilić, Ph.D. – +381 64 80 98 526
Jelena Anđelković Grašar – +381 64 80 98 523
Ilija Mikić – +381 65 312 09 06