Ljubo Fidanoski
Cerje – Govrlevo and Miloš Bilbija
The Balkan Peninsula has long been known for its rich history, culture and tradition. Many different cultures with different views of the world and their immediate surrounding have lived and are still living here, a state characteristic of this region even today, and will probably carry on in the future. This, above all, is owing to the good geographical position and the natural characteristics of this part of Europe.
The heart of the Balkans is Macedonia, its geo-morphological characteristics and favorable relief, with numerous mountainous areas, plains, valleys, lowlands, together with the wealth expressed in pastures, forests and water being the basic condition for the long-lasting survival of birds, animals and people in its territory. In almost all micro geographical units in Macedonia this condition is fulfilled, so that today we are witnessing the remnants of high achievements by historic and prehistoric cultures that have lived in these areas.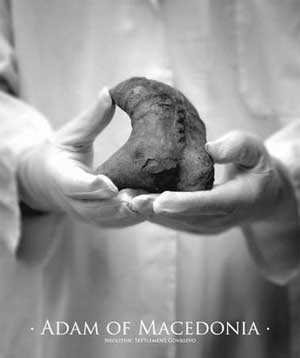 Cerje – Govrlevo is the nucleus of prehistory in the Skopje region. It houses the germs of the Neolithic, its development and decline, as well as the emergence of the Chalcolithic, the Bronze and the Iron Age in the Upper Vardar part of Macedonia. The discovery of this site has posed numerous questions regarding the age of this region, most of which have probably already been given an answer.
We owe the discovery, research and evaluation of this important site to Miloš Bilbija. Though originally not from Macedonia, his life's journey brings him precisely here. The ordeals of different cultures and with it of human destinies in the Balkans are in fact mutual confrontation. One such confrontation of contemporary man and the prehistoric man is the discovery and research of Govrlevo.
The true link between Neolithic Govrlevo and Miloš Bilbija is known to few. Therefore, this book aims at the best possible and most authentic presentation of that link to the wider audience. This edition will discuss the discovery and research of Govrlevo, as well as some of its features, the co-existence of Miloš Bilbija and the site, and in the end, the most important, some of his thoughts on it.