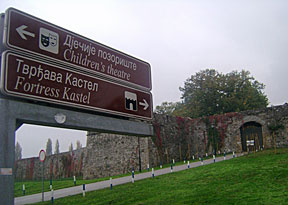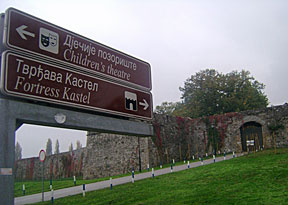 In a move that sparked public furor and renewed a debate on the lack of government care of historical monuments, the restaurant owner at Kastel, one of the oldest Balkans fortresses under the protection of UNESCO, expanded his business without proper documentation or licenses.
Officials said they reacted timely and took all the necessary steps to make sure the fort is returned to its original condition.
"The restaurant owner at Kastel tried to expand his locale without a license and was ordered to stop construction and return everything to its original state. If the changes are not made within the three-month deadline, there is a 7,000-euro penalty," Duska Makivic, spokeswoman for the Republika Srpska Construction Inspectorate, told SETimes.
Concurrently, there is also a project to revitalise the fortress. The first phase envisions the building of a hotel, garage and a parking area at the cost of 2.5 million euros.
The debate comes soon after movie director Emir Kusturica destroyed the Petnjica Fortress — a 150-year-old structure built by Austria-Hungary — to use the stones for his project "Andricgrad" in Visegrad.
It echoes a similar debate in the Montenegro, where Podgorica authorities recently destroyed a 1,500-year-old Roman aqueduct to build a sewer in the village of Dinos. Bloggers are furious at the authorities' perceived soft stance, and are determined to protect their cultural heritage.
"Unbelievable, only in the Balkans. Banja Luka, a European city, what a joke,"Aleksandar Milovanovic summed up the mood of disbelief.
"The people must react to this destruction. The fortresses survived many rulers and generations, but it seems that they will not survive the today's tycoons," Andjelina wrote.
It is not a problem to adapt old monuments to modern needs, but the government must take care not to disturb their original appearance, according to Bojana Maric, a Belgrade-based archaeologist.
"Unfortunately, the authorities pay more attention to the restaurants and hotels rather than to historical sites and monuments," Maric told SETimes.
"Kastel is beautiful the way it is, it should not be modernised, it just needs to renovate the walls and towers, underground tunnels and chambers." SpasimoKastel said
"As if green areas in the city are not destroyed enough, they turn even the grassy areas around the castle into concrete and a parking area. Why do we need some hotel or parking space when we can have a museum or a gallery in Kastel?" he added.
"I do not know how they did not think of something original, like building a pig farm. They can hire a hundred pig farmers … new jobs in time of economic crisis, does that make sense?" Cickos said.
"Unfortunately, such cases are not rare in the Balkans. … If someone is in the mood to read, I can give him a book stating when the Austrians made fortifications in the Balkans, there were theatres, bowling alleys, souvenir shops. Look at them now: many cities do not have [those elements] even now," Tony wrote.
Some bloggers invoked the huge number of historical monuments destroyed during the 1990s.
"What hypocrisy, 3,000 religious objects were destroyed in BiH during the war, the majority of them were cultural heritage. Now you are disturbed because of a restaurant or hotel or something. I guess we all deserve what is happening to us," Bas said.
Original source: SETimes.com