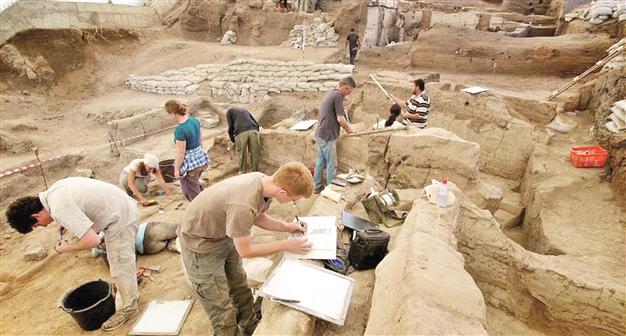 Excavations works that have been continuing in the earliest settlement of Çatalhöyük in the central Anatolian province of Konya have revealed a 9,000-year-old piece of linen fabric. The world's first hemp-weaved fabric has been found in the ground of a burned house.
The report about the new findings includes the process between June 15 and Aug. 15. More than 120 people from 22 countries worked for the excavations in this process. The most striking thing on the report is this fabric, which was wrapped around a baby skeleton.
Best preserved piece
The head of the excavations, Stanford University member Professor Ian Hodder, said that the most important finding in 2013 had been discovered thanks to protection conditions of the tumulus. Speaking about the piece of cloth, he said:
"The fire warmed up the ground and platforms of the building and created a kiln drying effect. Therefore the pieces and this piece of cloth underground have been so far protected. Examinations in the laboratory show that this piece of cloth is linen weaved with hemp.
This is a first in the world and one of the best preserved examples."
Speaking about the relation of the piece of fabric with trade, Hodder said, "This piece of linen, which is weaved very thin, most probably came from the eastern Mediterranean from the central Anatolia. It is already known that obsidians and sea shells had been exchanged in long-distance trade in the Middle East during the Neolithic era. But this fabric may have revealed another side of the trade."
Hodder noted that they also had discovered a new wall painting, and continued: "In the 2013 excavation season we also started excavations in the Neolithic era buildings in the southern skirt of the eastern tumulus. These buildings really have different features from the early era buildings. They have thick walls and big bricks on the walls. They were not set fire to when people left them. A wall painting on the eastern wall of a building here is a unique one that we have never seen. Generally, paintings in Çatalhöyük are in red and black colors on white ground. But in this example, there are white geometrical shapes on dark ground. We believe that this painting continues through the northern walls of three buildings. It was an exciting experience for us to unearth this wall."
The report on Çatalhöyük excavations has been published on a website www.catalhoyuk.com. The website is designed for those interested in the ongoing excavations in the ancient settlement. Its aim is to provide information about the activities of the project and the different aspects of the research being conducted in the area.
Source: hurriyetdailynews