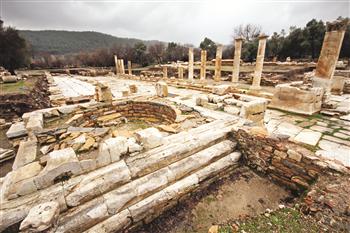 Archaeological excavations have been continuing in the ancient city of Stratonikeia in Muğla. Once the work is completed, the ancient city could be added to UNESCO's World Heritage List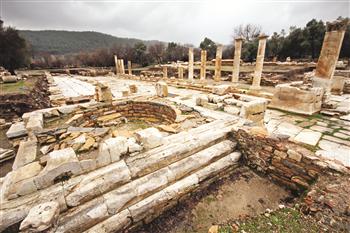 The world's largest marble city, the ancient city of Stratonikeia in the Aegean province of Muğla's Yatağan district, is expected to be included on the temporary list of UNESCO world heritage sites.
The head of excavations at the ancient city and Pamukkale University Professor Bilal Söğüt said Stratonikeia, one of the most important cities in the Caria region, was a settlement of Carians and Lelegs, both local Anatolian populations, and also survived as a settlement during the Hellenistic, Byzantine, Ottoman and Republican period.
Söğüt said they unearth significant artifacts during the archaeological excavations every year. "This is a living archaeological city. It is unique. There is no other city where structures have survived as a whole since the ancient period. This is why the city should be listed as a cultural heritage site. We will finish the work this year and deliver the necessary forms to the General Directorate of Museums."
2012 excavations
Söğüt said that the latest excavations had begun in Stratonikeia in June 2012 with the participation of 50 academics and students from eight universities as well as 40 workers.
He said that each academic carried out work in his own area of expertise, mainly in the ancient theater, gymnasium, basilica, graves and city walls. "Structures from different periods in the ancient city were restored for visits. Greek, Latin and Ottoman scriptures can be seen on the same structure together. The city is culturally rich in this sense," he added.
Söğüt said that 725 artifacts had been found during 2012 excavations and all of them had been conserved and restored. "225 of these pieces can directly go on view. All discussions regarding restoration work have been completed and the artifacts were delivered to the Muğla Museum. The strong columns that were found in the western street were revived. Looking at this 10-meter wide street is enough to understand the magnificence of Stratonikeia."
Sewage system can be used
Söğüt said the theater in the city had been built with a temple. "Stratonikeia is one of the places where the theater and temple relation can be seen the best. The theater, which has a capacity of 15,000 people, has been excavated and conservations work has been finished. The most perfect sewage system of the ancient era has been found in the theater. We are very pleased because it is in good enough condition to be used even today."
Söğüt also said that the restoration of the Hasan Şar House inside the ancient city would be completed this year with a financial allocation from the Muğla Governor's Office.
Source: hurriyetdailynews.com