During the field school, two excursion are planed, to Skopje and to the archaeological site Stobi
SKOPJE WALKING TOUR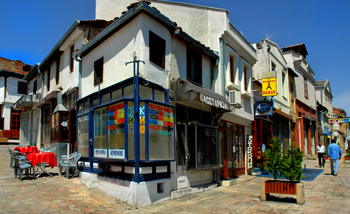 The excursion will give you opportunity to discover Skopje and its history by walk through the great buildings and major historical sites which are landmarks of the old part and the new part of the city. The accent is given to the Skopje's Old Town characterized by architectural mixture of churches, mosques, inns, baths, including Daut Pasha Hammam (XV AD), Chifte Hammam (XV AD), Kursumli An (XVI AD), Kapan An (XV AD), Suli An (XV AD), Bezisten (XV AD covered bazaar), many craftsmen's shops, old buildings, small shops and Bit Pazar (big market place). It can be visited both, through the Stone Bridge which is the symbol of the city, or walking down from the Skopje Fortress, Mustapha Pasha Mosque (1492) and the St. Savior church (18/19AD). The tour also includes the guiding throughout the monuments, historic figures, sculptures and new buildings envisaged by the project 'Skopje 2014', located around the main city square including the Memorial House of Mother Theresa and the nearby City Museum. The tour ends in the afternoon at the meeting point in Vinica.
Duration: 7 -8,5 hrs
Entrance tickets per person (included)
MACEDONIAN WINE TOUR
The tour includes visit of the Archaeological site of Stobi and the wineries in the Vardar valley in the Tikves region. After departure from Vinica we are visiting Stobi, located on the main road that leads from the Danube to the Aegean Sea and considered by many to be the most famous archaeological site in the Republic of Macedonia. A walk through this site includes: Northern Basilica, Central Basilica, Synagogue, House of the Psalms, Public Fountain, Magnae Thermae, House of Peristerius, Palace of Theodosius, House of Partenius and the Theater. The tour also includes a visit of one of the many wineries and vineyards in the region which consist lecturing from enology expert, presentation of the process, wine-testing and possibility to buy wine and rakija (local brandy). The tour ends in the afternoon at the meeting point in Vinica.
Duration: 7 – 8 hrs
Entrance tickets per person (included)
[youtube]ttGGor-tylI[/youtube]
Some history about Stobi
The ancient town of Stobi is mentioned for the first time in 197 B.C., but the beginnings of the town can be traced back at least 400 years earlier. The preserved buildings of the town include a theater built in the 2nd century A.D., luxurious palaces with fountains and mosaics, as well as church buildings of basilica type with floor mosaics, wall mosaics and fresco-paintings. The Partenius' palace, where King Theodosius was a guest in 388 A.D. and the Peristerius' and Partinius' palaces are also of exceptional beauty. A total of 18 floor mosaics have been discovered in Stobi, all illustrating stylized animals worked in soft green, deep blue, ocher and reddish tones.
[youtube]lqxV-O-21Hw[/youtube]
For more information about Stobi click here